Are You Starting Your 501c3 Nonprofit? Do You Have A Vision?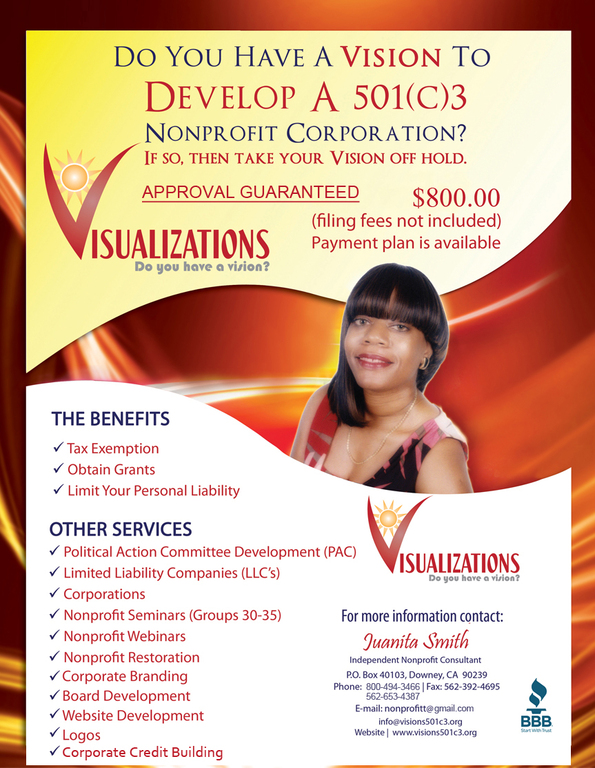 Visualizations
is an organization that has assisted over 300 individuals, organizations and ministries with developing their
Vision
to become a 501c3 nonprofit exempt organization. More importantly, they only charge a minimum fee with a payment plan made available to everyone regardless of the size of the organization. They realize that it is not merely a business for you but, an outreach ministry that will ultimately touch the lives of many and they want to be a part of that vision.
By allowing Visualizations to develop your non-profit's Vision, they adopt you in to their "family". They walk you through the process; keep you informed by communicating to you where they are with your project on a constant basis every step of the way. They become the Liaison between you and all of the legal entities that are pertinent and are associated with the development of your Vision. Your Vision becomes their mission. By developing a 501c3 Nonprofit Organization you will benefit from the following:
- Limit your personal liability
- Tax Exemption
- Obtain Grants for your programs and/or project
Visualizations is an amazing organization to consider for starting and growing your nonprofit.
Learn more
about Visualizations and their founder Juanita Smith.
"Working with Juanita Smith of Visualization has helped my dream of starting my 501(c)3 girls program become a reality. Juanita, is not only professional and knowledgeable she is pleasant to work with. Another good thing about Juanita, is that she was reachable whenever I had a question to ask of her. I would highly recommend anyone wanting to start a non-profit organization to give Juanita a call."
Michelle Y. Jacobs,
What's Out There For Girls Foundation